In one of his TED talks, the late Hans Rosling makes the case why the washing machine is the greatest invention of the industrial revolution. The washing machine vastly reduced the amount of work needed for household chores, and this gave especially women time to spend on education and to enter the labour market. This revolutionized the structure of society in western countries.
However, this progress was only made in part of the world, because the majority of the world population (estimated 5 billion people) cannot afford a washing machine. Because this is a chore that is mainly done by females, the majority of women and girls in the world is still spending a significant part of their week on hand washing of laundry.
Our solution
Through our innovation, the Solar Soaker, we aim to substantially reduce the time spent on laundry, and to do this in an affordable way, so that also the poorest women can benefit from the solution.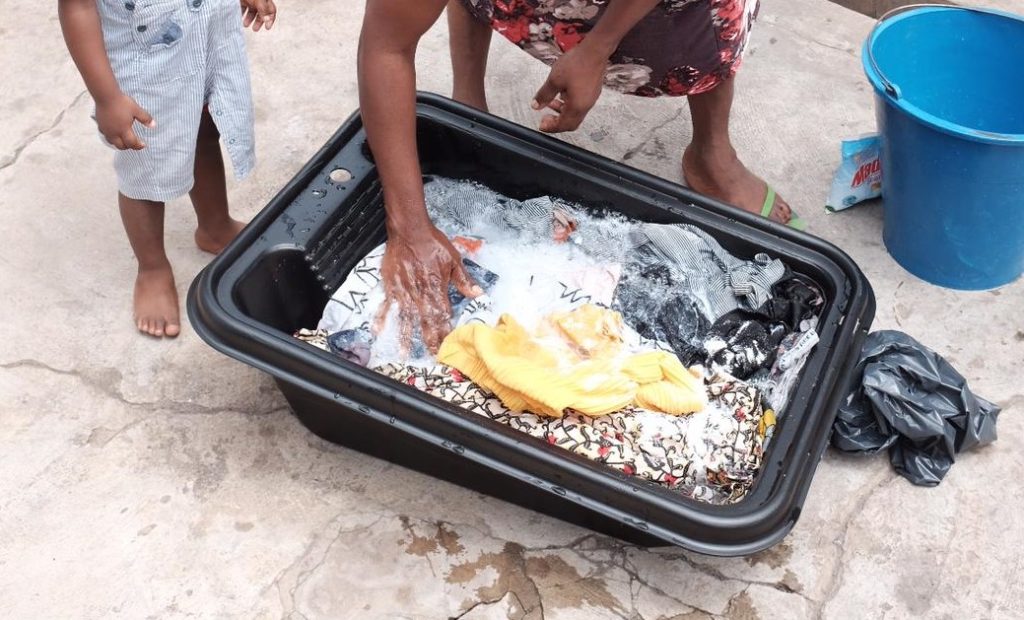 Our Solar Soaker uses the heat of the sun to remove stains and dirt without a need for hand washing. The innovation consists of a plastic basin with a transparent cover. Using it involves dissolving detergent in water, submerging the laundry, closing the cover, and leaving it to soak in the full sun. The sun heats up the wash solution to the point where stains and dirt are removed without a need for hand washing.
The result is superior cleaning performance approaching machine wash.
Business model
We have founded our start-up venture with a team that has the relevant experience to address the main challenges to bring this innovation to scale in the market: create a business model that is affordable for the end-user, while also creating a distribution and marketing channel that is able to reach people in remote (rural) villages.
Our scaling approach is to create a network of launderettes managed by micro-entrepreneurs, where women can use a solar soaker to wash their laundry and pay-per-use for the water and detergent. For distribution & marketing, we want to work with local distribution partners that will also recruit the micro-entrepreneurs to operate launderettes. In Uganda we identified Healthy Entrepreneurs as partner for this (they currently have 1500 entrepreneurs active in different districts). We plan to use local advertising by door-to-door agents, and to offer 2 weeks of free laundry services during the start-up of a launderette.
Current stage
This project has achieved proof-of-principle for both the technology and the business model.
Our next step is to transition-to-scale. We are doing a limited introduction of the solar soaker launderette in 3 locations in Uganda through Healthy Entrepreneurs, to validate our business model, marketing & distribution approach, and value proposition.